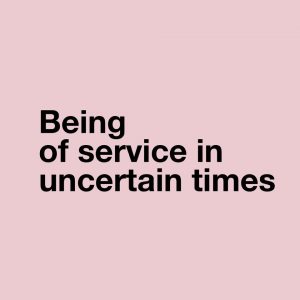 We are living through unprecedented times.
No one I personally know has ever lived through what we are living through and what is ahead though historically humans have transitioned through similar experiences in the past.
There is so much uncertainty.

Beyond the acute nature of the world being shut down by a fast moving virus, is the longer term economic ramifications, changes and reinvention that is being asked of us.  It is a huge time of crisis and a huge time for the need for innovation, compassion and social support structures both through proactive governments, large corp but also in social circles, communities and amongst individuals.
With so much financial uncertainty being felt in all corners of the world and with the sobering understanding of the long arm of money, security, finances and the economy,  we are now seeing just how much we are in a relationship with money in almost every facet of our lives.  It is time to upgrade and redevelop our relationship to ourselves and our relationship with money and its effect, power and potential in our lives.
This is the time for my expertise to be put to great use and put to the test. I have been training and working in the area of human behaviour, human psychology and inter-relationship plus money, finances and money psychology for a decade and now it is time to really bring the work like never before. It is time to scoop up women all around me and start talking, keep talking, create solutions, tell the truth and navigate to a distant shore together.
At this time I have opened up to offering one off single sessions of Financial Therapy + Money Coaching to serve and support any woman or family in need of clarity, direction and enrichment.  I am also available for Transpersonal Counselling and general Life Coaching if you wish to have a session about anything that you want support with. Both these are offered with a sliding scale of pricing.
I am also relaunching Money Love as a community which will hold a longer container around women doing their money work at this unprecedented time.  The Money Love Collective is a tribe of women creating a trusting, shame free, blame free space of women to work through their relationship with their money, their wealth and their security. The lens of money is a powerful lens of enquiry and if you have never done any 'money work' you may not appreciate how powerful and freeing it is.
I am inviting some Guest Teachers to join me in The Money Love Collective to add more value to the women in this community and to be of more service to more women at this time. I will teach and facilitate the Money Love program + Bonus sessions on various topics and open coaching.
The Money Love Collective will be open to new members from Monday 23rd at $20 per month membership subscription AUD.
There has never been a more essential time to become resourced and move from fear to love in your relationship to money psychologically, emotionally and practically.
I am happy to be of service to you in anyway I can.
Much Love ❤️