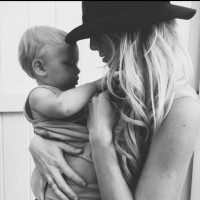 The words I never heard:
I have always had a very powerful connection to music. I love it. Portals into other peoples heart. Some songs are the poetry of my soul expressed through another persons musical gifts.
One day I unearthed Van Morrison's album, Tupelo Honey and just played it over and over and over. There was this one song in particular that just knocked the wind out of me.
One night I was standing at the kitchen sink, tired from another day of breast feeding, cooking, cleaning, rocking my son to sleep. I was beyond tired. I was dry boned weary. It was late. My husband had gone to bed as he said he had to go to work the next day. Like I didn't……
As I listened to the song 'You're My Woman' on the stereo, tears started rolling down my cheeks. They just rolled on down like streams in the rain, whilst I kept washing and drying and preparing for another day of being a hands on mum to a 2 year old. Like many mothers, I would stay up late feeling like a thief stealing moments in the night, to take back my personal space that was two years invaded. With determination I would reclaim the order from the rubble of toys and dishes and washing and to try and dam up the feeling of drowning and overwhelm that would overcome me at times during the day as I focussed willingly on my rocket fuelled son. A growing lump lodged itself in my throat, growing tighter. The lyrics of the song were like pin pricks.
"and you're are my woman
and you're my woman
your bore my child lord
I want to thank you
I want to thank you
and no one else will do
baby its you
you are my sunshine
I am your guiding light
and I love you
I really love you
my heart is for you
I long to feel you
and every time I do
its you."
I had dreamed of hearing that kind of care, reverence and devotion from my husband but until that moment, didn't know I had been waiting. Feeling like a part of me was missing. In that moment and many other moments I was looking for deep acknowledgement of being the woman that had birthed his child. Waiting to be noticed for the contribution and the offering of that process, of carrying this child in my belly, my womb and birthing into the world in the magical way only women can.  His son, my son, our son. Wanting to be seen as his woman, as his sunshine, to be adored and honoured as the queen of his world and the woman that he would steadfastly protect with his masculine care.  I wondered if that was too much to hope for. I wondered if I was living in a fantasy and that I just needed to grow up.
That night, in front of the kitchen sink, with tears falling down my cheeks I fell down a rabbit hole in my heart and I don't think I ever recovered in my marriage. I never did feel like his Queen or his sunrise or his magnificent birthing woman.
I have learnt to give those gifts of care, reverence and devotion to myself. It is not to compensate for the fact that I did not hear or feel those things from my husband. That can never be filled. Just grieved, acknowledged and left to dissolve itself if it will. I have discovered that just being a woman and a mother is its own sunshine, it's own radiance. Time is now devoted to my own wellbeing as an act of service to my growing children, I grow myself as they grow themselves along side me.
This journey of motherhood is such a gift, and what mothering means and how I experience it morphs as my children change and as I shape shift into the newest version of myself. It is a wonderful experience and I am thankful for it every day. On the harder days I dig deeper to find the gratitude. I am my own guiding light and a champion for my sons light to shine bright. I am my own woman as I reclaim myself beyond the roles of mother and wife and discover who it is that I have transformed into through the chrysalis of the early years of child raising and divorce which can suck the marrow from your bones.
Listening to this song now, I want to send a love note to her at the kitchen sink, lost and invisible and exhausted. I want to tell her that she has no idea how tough it is going to get and how magnificent it will be. That she would have another baby and miscarriages and a miscarried marriage that will smash her on the rocks. That she will have her heart completely broken into too many pieces to count and that she will not glue it back together but let it mend into a new shape in its own sweet time. I would ask her to stop looking outward for the validation that she does not need, because her actions are her own permission in themselves.
Like the crows that peck at the corpse at a Buddhist funeral, she will one day make a space on that mountain for her soul to be pecked clean to the bone. She will go knowingly with arms open to the scene of the death of her dreams. She would not imagine she had the strength in her to get this far and to feel this high. I would tell her that one day she will stop feeling so scared and that one day she will be seen and seen and seen again when she labours herself back to the natural way of being her own woman.
"look into my eyes
an you will realise
its really really real
you went into labour
and all your friends came through
its you
you are my sunshine
I am your guiding light
just like a ship out in the night
returning for the light."
– Lotus Indigo Shakti
Click the image below to listen to "you're my woman" by Van Morrison