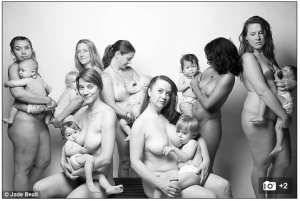 It is International Breast Feeding Awareness Week Hey!
Like most things that are important to me I feel every day is awareness day. I personally do not have to be aware of breastfeeding because, to me it is breathing, to me it is life, it is so obvious.
However it shows up, wherever it is done, In whatever way it is possible to create that experience it is the gold of life. Maybe via breastfeed surrogates, pumping, sharing the frozen milk around, talking in groups of women with all your breast out and a baby on each or quietly in unfriendly cubicles, in restaurants with offended patrons who want to belittle you with their small mindedness, in public places with a shawl over your shoulder or walking around with baby in a sling and asleep with your breast in their mouth whilst they sleep suckle. When your toes curl in the first weeks of breastfeeding where you feel like nails are being scraped across your skin and you just want to scream and cry and you do scream and cry because it hurts. With your top up or your dress off your shoulder, your magic breast feeding bra in full operation or all a-la-naturale. It doesn't matter cause it is all beautiful.
I can watch a woman breastfeeding and be hypnotised by her radiance, the child's deep tranquility, the beauty of the bond and the calming of the rhythm. I can feel my breasts let down when I am amongst breastfeeding women; that is how strong the chemistry and the instinctual desire is. Even today… some 2 years after I finished breast feeding my second child, I can still lactate.
Strangely there are hardly any photos of me breastfeeding but I was one of those women that was almost permanently tethered to my child via the nipple. I did it on the go, whilst walking, with cold cups of tea in my hand. I cried my way through it, breathed my way through it, smiled my way through it, starred endlessly at my beautiful child through the act of breastfeeding. I smelt baby head, played with soft angel down hair, wondered about how life would be for my child so milk sweet and warm. I would fall into deep deep sleeps and was nourished in the exchange. I did it for years and years and years. I am so deeply grateful for the experience of being a breastfeeding mother and my children are so profoundly healthy in their constitution and in their bond with me. I miss breastfeeding. It is a profoundly divine act of love and life.
– Lotus Indigo Shakti Kruse