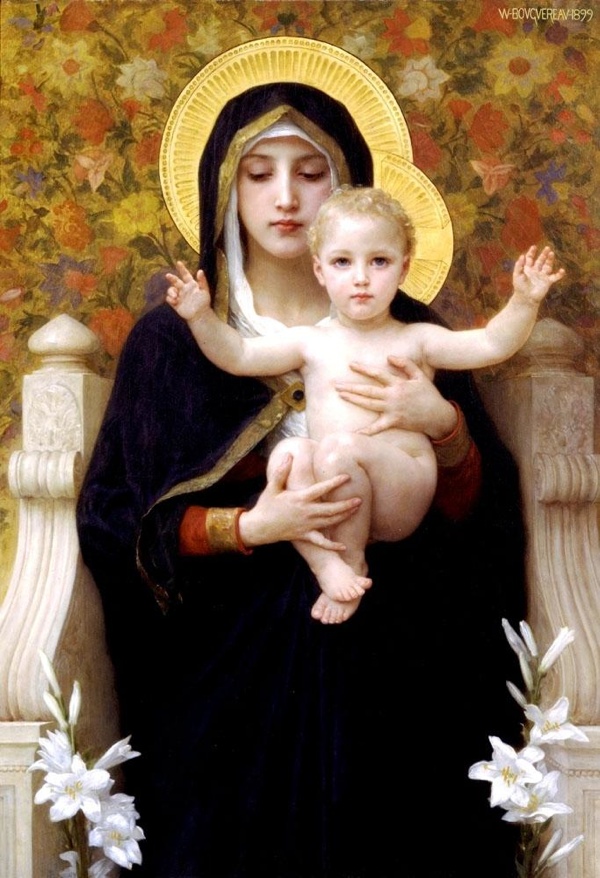 I feel a witch hunt brewing.
Tuck your brooms away.
Close ranks and send the owls out to prey.
Stay in bed all day and don't speak to strangers.
Latch the door.
Heresy is knocking pointing fingers.
Don't tell them you are communing,
passing star seeded apples.
Wait out the storm of scare mongering and vigilantes.
It's time to make beds in the attic and the basement.
Create cauldron's of witch tribe and fast.
Midwife your brood and kinfolk.
Keep the secret hand shake secret.
Tuck the key between your milking bosom.
Gather in the morning dew before the dawning.
share your harvest,
and infuse mother earth medicine in the dark night of things.
Magic is alight full of spells of peace and grace.
I feel a witch hunt brewing.
~ Lotus Indigo Shakti Kruse
Painting: The Madonna of the Lilies, 1899 William-Adolphe Bouguereau
Music:  La Sagesse { woman I'm calling you } Sheila Chandra